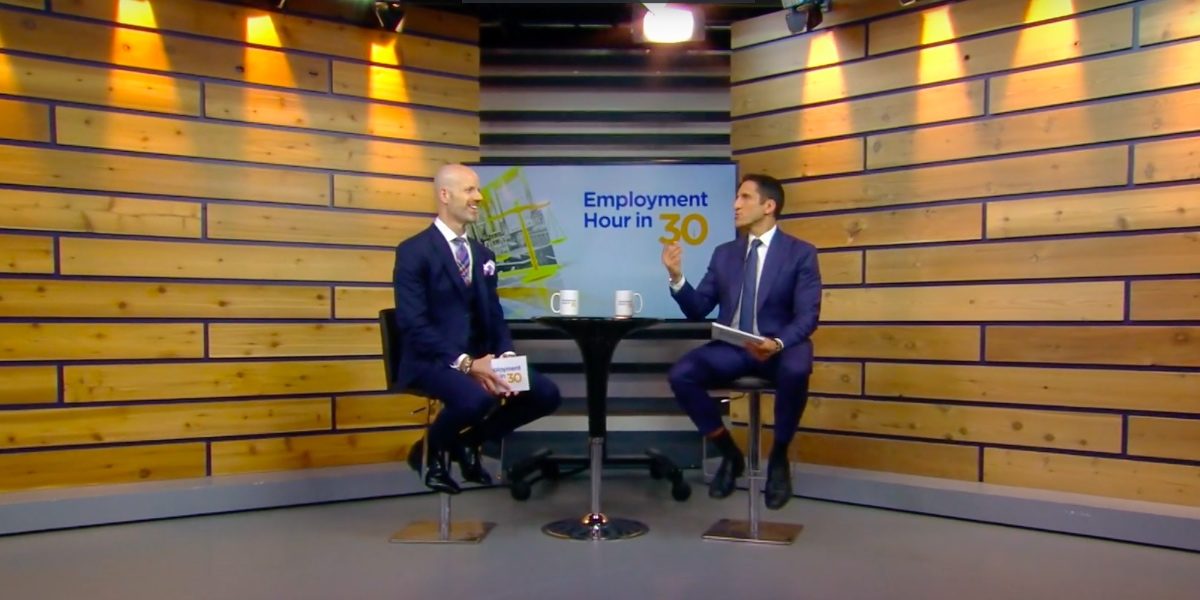 Summary
The Employment Law Show (formerly Employment Hour in 30) with employment lawyer Lior Samfiru. Discover your workplace rights and learn everything you need to know about employment law in Ontario and British Columbia on Season 3 Episode 32 of the only employment law show on TV in Canada.
EMPLOYEE RIGHTS WHEN A BUSINESS IS SOLD, a termination vs. a layoff, a performance improvement plan after hip surgery, non-compete clauses, federally regulated severance packages and more.
► 1:27  Week That Was – An employee had been working at a company for 15 years when new management came in and started taking away her responsibilities but did not change her pay. Lior explains why this is a constructive dismissal.
• Lior explains your rights in a constructive dismissal situation.
► 5:02  A caller from the Employment Law Show – I took a year off work for hip surgery. When I returned to work, I was put on a performance improvement plan. How much severance pay would I be owed if I fail to satisfy their plan?
• More on severance pay and how it's calculated.
► 8:11  TerminationQuestions.com – What's the difference between a termination vs. layoff? If I've technically been "laid off", am I still allowed to ask for severance pay, or is an employer within their right to say no?
► EMPLOYEE RIGHTS WHEN A BUSINESS IS SOLD
• 10:28 – When a business is sold, do the employees automatically get severance?
• 11:58 – What happens to an employee's length of service if they continue working?
• 13:24 – Does it matter if the new company wants the employee to sign a contract of employment?
• 13:47 – What happens if an employee does not want to take a job with the new company, are they entitled to anything? Is that considered a "resignation?"
► 16:00  Severance Pay Calculator example – 47-year-old Matthew was with a company for 23 years. He was let go without any reason and was given a 10-month severance offer with a 3-day deadline. His boss said that the package was a good one, and that he should accept it before the offer expired. Is he owed more?
► 20:10  A caller from the Employment Law Show – I was off for a month after a soft tissue injury. Following rehabilitation, I returned to work on modified duties. I'm supposed to return to regular duties soon, but I don't feel ready yet. How do I stay on modified duties?
► 23:39  A caller from the Employment Law Show – I was just let go on Monday after 6 years at the company. Because I was at a federally regulated business, I was given 2 weeks in lieu of notice and 2 days' pay for every year of service. Is that enough severance pay? I'm 53 years old.
► 26:05  TerminationQuestions.com – If a company's payroll is less than $2-million per year, are they exempt from paying their employees severance pay?
► 27:12  TerminationQuestions.com – I just gave my employer of 4.5 years my notice of termination. However, I just read my original employment contract, and discovered that I agreed to a non-compete clause! Is it enforceable?
---
Next Episode: Employment Law Show S4 E1 – Top Myths of Termination
Previous Episode: Employment Law Show S3 E31 – 5 Things Employment Lawyer Can Do
---
Experiencing an Employment Issue?
Before you call a lawyer, use the Pocket Employment Lawyer to find out if you might have a case.
Use The Severance Pay Calculator to find out how much severance pay you may be owed upon termination.

Call 1-855-821-5900, email Help@EmploymentLawyer.ca or fill out a contact form to get help now from an employment lawyer in Toronto, Vancouver or Ottawa.
Denied Long Term Disability? We Can Hp.
Discover your rights when your Long Term Disability Claim is denied. Find out more here.